Vision: Be part of the BHS TRIBE.
Teaching Reaching Inspiring Believing Excelling
Mission: Bob Harding Shawmut Elementary School, in partnership with parents and the community is dedicated to providing a quality education by implementing a strong curriculum, valuing diversity, and practicing individualization to close the gap and prepare all our students to be productive citizens.
Masks Are Required on School Buses
Please remember that students are still required to wear masks on the school buses.
Hike Bike Run Collections and Hat Day
Our school is collecting donations for the Valley Haven Hike Bike Run. We have a big bottle in front of the office for students and teachers to drop coins or cash into. We are having Hat Day April 29th. Any student who brings $1 to give to Valley Haven will be allowed to wear a hat at school that day. The bottle with donations will be picked up the week of May 2nd.
Hoodies Are Not Allowed at School
This is a reminder: hoodies are not allowed at school - not even tucked into the back of the shirt.
100 Days of School - January 2022
9 days ago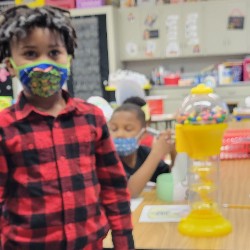 Congratulations, Mrs. Peacock!
We are so proud of our Peacock! Mrs. Courtney Peacock, teacher of the year at Bob Harding Shawmut, has been selected as the Chambers County School District Elementary Teacher of the Year!
Head Start Students Visit BHS
9 days ago
Teacher Appreciation Week
THANK YOU to our incredible TPT for an amazing Teacher Appreciation week! Breakfast, lunch, desserts, duty free lunch, goodies, and even an ice cream truck visit…we loved every second of it, but we are extremely grateful for the letters we received from our students! Such a sweet thought that we will cherish forever! Thank you to all who helped to make this happen! Our Shawmut Tribe is lucky to have the very best parents and students! 💜💛
Sorry, but there was nothing found. Please try different filters.